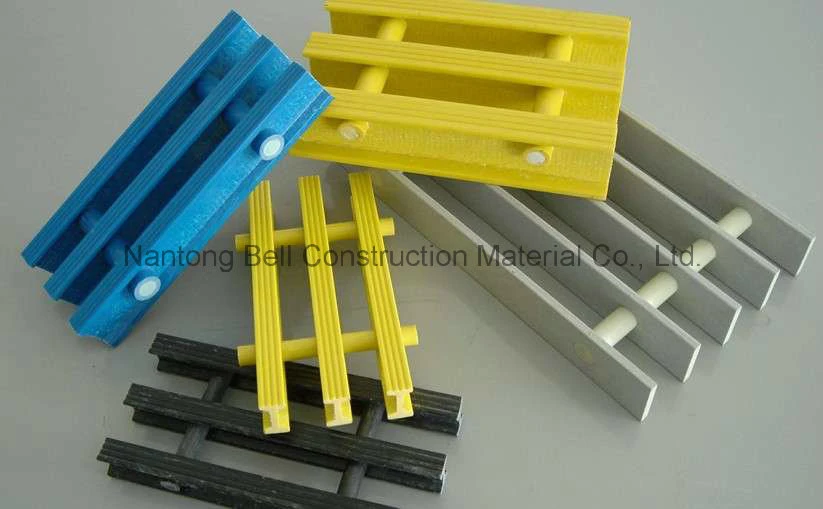 BELL pultruded grating is light-weight, strong, anti-fire chemical and UV resistant, and reduces costly maintenance. Bell pultruded grating is well suited for highly corrosive environments and offers extended life,eliminating periodic maintenance and extra cost, which is a good alternative compared to steel gratings.
BELL COMPOSITE Pultruded grating is used in installations where exceptional load bearing and uninterrupted spans need to be bridged. The high ratio of glassfibre to resin content guarantees exceptional mechanical strength. Pultruded grating is available in 25mm, 38mm, 50mm, 75mm and 100mm thicknesses, I beam & T bar pultruded profiles and with 18% 30% 33% 35% 40% 50% & 60% open surface area.
Advantages of Phenolic grating:
-High anti-fire
-High anti-corrosion and anti-aging
-High anti-slippery
-Light but high loaded strength
-Long service life and maintenance free
-Non-conduction or magnetic
-Easy installation and rich colors


-Various sizes and colors available
1)We have a standard manufacturing line and a complete quality ensuring system for hot dip galvanized steel grating reaching your requirements.

2)We own most advanced production equipments.The CNC press-welding meshine is controled by computers.

3)We have about 20 years experiences about manufacturing and exporting.

4)We own more than ten senior engineers,they can promise our product technology in the industry in a leading level.